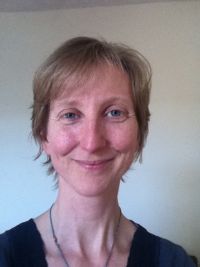 I had the honour of being in the first cohort of students to study the MBCT diploma at Exeter University under the guidance of Willem Kuyken and Alison Evans, graduating with a post-graduate diploma in 2011. Since then I have taught over 20 MBCT and MBSR courses in a variety of settings, including patient groups, health professionals, students, and the workplace. I am currently a supervisor and retreat leader for the Mindfulness Network. In January 2022 I completed the Bodhi College Teacher Training Programme.
I have a background as a medical General Practitioner doctor, and currently work part time in West Wales.
---
Qualifications
Mindfulness Supervision Training 2016
Postgraduate Diploma in Mindfulness-based Cognitive Therapy, University of Exeter 2011
Membership of the Royal of General Practice (MRCGP) 2003
MBChB (Bachelor in Medicine and Surgery) University of Bristol 1998
BSc Honours (2.1) Psychology Bristol 1995
---
Teaching-Training Specialisms
MBCT in clinical and non-clinical settings
---
Personal Practice
I was interested in contemplative approaches, initially in the Christian, and then in the Buddhist traditions as a young university student. Early on in my working life, this interest developed with short retreats at Gaia House, Devon. My first week-long retreat involved practising Korean Zen with Martine and Stephen Batchelor in 2005. It was a powerful experience which inspired me to start regular daily practice.
Since then, my practice has developed under the influence of many teachers at Gaia House including Rob Burbea, Catherine McGee, Gregory Kramer, Kitissaro and Thanissara. Their teachings are mainly based in the early school Theravada Buddhist teachings, but are also influenced by western ideas and practices. Feeling a need to deepen further, in 2012 I decided to undertake a three-month retreat guided by Rob Burbea in which I spent a lot of time with 'metta' (befriending) practice. I currently live in Machynlleth, West Wales where I have been helping develop our local meditation sangha, and also dedicating some time to learn from the natural world around me with nature connection practices and initiatives and local ecology courses.
---
Research Activities and Interests
I taught an adaptation of MBCT for patients with chronic respiratory disease as part of a pilot project organised by Dr Alice Malpass, at the Centre for Academic Primary Care, University of Bristol in 2012.
---
Publications
Malpass A.; Carel H.; Ridd M.; Shaw A.; Kessler D.; Sharp D,; Bowden M.; Wallond J.; (2011) Transforming the Perceptual Situation: a Meta-ethnography of qualitative Work Reporting Patients' Experiences of Mindfulness-Based Approaches. Mindfulness 3 (1), 60-75.