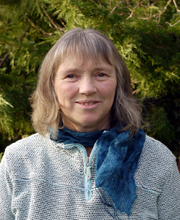 I live on the Isle of Anglesey, (Ynys Mon in Welsh) and I teach locally in north Wales. I have been part of the core teaching team since 2001 at the Centre for Mindfulness, Research and Practice (CMRP) at Bangor University. During this time, I have taught on Mindfulness-based Stress Reduction (MBSR) and Mindfulness-based Cognitive Therapy (MBCT) eight-week courses and Teacher Training Retreats. I also taught on the Mindfulness-based Masters degree in Bangor on the Foundation module. This module has a focus on personal practice which is my main area of interest. My Masters dissertation explored practice after the eight-week course and I continue this interest by teaching follow-up courses and leading practice retreats.
---
Qualifications
BA at University College of North Wales, Bangor, 1971
Teacher Training Intensive with Centre for Mindfulness Teachers, Massachusetts, organised by CMRP, 2001
Advanced Teacher Training Retreat led by Ferris Urbanowski and Susan Woods
MA in Mindfulness-based Approaches at Bangor University, 2008 
---
Teaching Training Specialisms
I enjoy training teachers at the beginning of their journey and continue to supervise teachers on their journey onwards. I have shared ideas with teachers about the provision of follow up support at several conferences and retreats.
---
Retreat Lead Experience
Staying Mindful Retreats:
Five day Silent Retreats.
Teacher Training Retreats
Five-day MBSR Retreats.
---
 Retreat Specialisms
Although I love participating in and leading silent retreats, I have developed a staying mindful retreat for people new to retreats and for teachers wanting to lead follow-up courses for graduates of eight-week MBCT/MBSR courses.
The Staying Mindful retreat offers a development of the themes and practices of the eight week course and offers some new practices to stimulate and inspire. The motivation and intention around practice is explored alongside obstacles to practice. Also, we contemplate the cultivation of attitudes that are essential for mindfulness practice. This includes working with life challenges with self-compassion and kindness.
---
Personal Practice
I have been practising meditation since my twenties, when I travelled to India, Thailand and Japan to explore a range of Buddhist and advaitic practices. Most of my adult life, I have practised mindfulness and Zen meditation. It has helped me live with the demands and delights of a large family which now includes four grandchildren. My practice enriches my life, helping me with challenges and enhancing joy (when I remember to be present and when I don't, remembering self-compassion can be useful!)
I love to walk in nature and I am fortunate to live in north Wales where I enjoy walks by the sea, in the mountains and in my beautiful garden. Movement also includes Qigong, yoga and dance. Mindfulness Self-Compassion and poetry also inspire me as does working with Koans with my teachers Melissa Blacker and David Rynick.
---
Research Activities and Interests
My Masters thesis explored the long term effects of mindfulness after the MBCT/MBSR eight-week course with a particular interest in the need for support to continue to practice.
Publications:
MA thesis: 'Mindfulness-Based Cognitive Therapy and Mindfulness-based Stress Reduction: Long Term Effects', Bangor University' (2008)
Retreats Spring Newsletter CMRP, Bangor University (2014)
Staying Mindful Spring Newsletter, CMRP, Bangor University (2013)
Island of the Storms, Montage, Writings from a Welsh Island, Anthology (2015)
Currently writing a book on 'Staying Mindful' (2015)