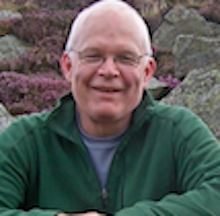 I am the son of a Presbyterian minister who went to Japan as a Rotary Club exchange student in high school and was co-captain of the wrestling team and member of the University Senate at Wesleyan University before turning to religion and art as a senior. I spent my twenties looking for God: working in a food co-op, dancing in an improvisational dance company and making stoneware pots as a professional potter.
After receiving my Masters in Liberal Studies from Wesleyan University in 1984, I became part-time art teacher, then, eventually, headmaster of the Hammonasset School in Madison, CT.  In 1991, I moved to Worcester, MA to become the Executive Director of Dynamy, an experientially based internship school for students between high school and college.  I left Dynamy in 2004 to become a full-time life and leadership coach.
My formal Zen training began in 1981 and, in 2011 I was officially recognized as a Zen Master in the Korean Rinzai tradition by my teacher Zen Master George Bomun Bowman. My wife, Melissa Myozen Blacker, Roshi and I have been leading a meditation group since 1991, first in the family room of our home, and now in the Boundless Way Temple here in Worcester, MA.
Since 1992, I have been a member of the First Unitarian Church here in Worcester where I have played many roles, from President of the congregation to occasional lay preacher. In 2005 I began working closely with the national Episcopal House of Bishops as consultant and lead trainer for their peer-coaching program.
Things you would not know by looking at me: I am a licensed Maine Sea Kayak Guide, novice jazz bass player, avid landscape gardener, blogger, tweeter, and aspiring unicyclist.  My beloved daughter, Rachel Blacker Rynick, is a voice teacher in the Greater Boston Area.
Qualifications
Zen Master Transmission, in Rinzai Zen tradition through Zen Master George Bowman, 2011
Abbot of Boundless Way Zen, 2010
Professional Certified Coach (PCC),  International Coach Federation, 2005
Certified Professional Coactive Coach (CPCC), The Coaches Training Institute, 2004
Maine Sea Kayak Guide License, 2003
Master of Liberal Studies, Wesleyan University, 1984
Bachelor of Arts, Wesleyan University, 1974