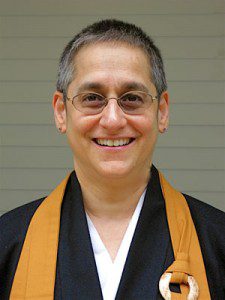 I was an MBSR teacher and director of programs at the Center for Mindfulness at the University of Massachusetts Medical School in Worcester, Massachusetts, USA, founded by Jon Kabat-Zinn, from 1992 to 2012. I am also a fully transmitted Zen teacher (Roshi), and co-founder, guiding teacher and Abbot of Boundless Way Zen, a multi-lineage Zen community in New England. Boundless Way Zen is focused on creating a modern, western version of Buddhist practice, in alignment with the modern mindfulness movement. I have a private practice in contemplative counseling, which includes supervision in teaching mindfulness.
---
Qualifications
My graduate degree is in counselling psychology, specialising in grief and mourning.
---
Teaching Training Specialisms
As a teacher and director of training at the Center for Mindfulness, I taught classes in mindfulness-based stress reduction to various populations, and trained and supervised MBSR teachers. My connection to UK training began in 2001, when I taught the first professional teacher training in MBSR (the Teacher Development Intensive) to many of the founding members of the CMRP.
---
Retreat Lead Experience
Since retiring from the CFM, I have taught workshops and silent mindfulness retreats throughout Europe, the UK and Scandinavia, with my husband David Rynick. We have taught retreats ranging from 3 to 10 days in Ireland, Italy, Wales, Finland, Sweden, Denmark, Germany, Austria, France, Belgium, the Netherlands and Portugal. At our home at Boundless Way Zen Temple in Worcester, Massachusetts, we teach six retreats every year, ranging from 3 to 21 days. All of these retreats include time for silent sitting and walking, individual interviews with teachers, Dharma talks and group discussions.
---
Retreat Specialisms
David and I focus on teaching the skill of being in silence, trusting the emergence of wisdom and compassion from the stillness of sitting meditation.
---
Personal Practice
I have been a student and then a teacher of Zen Buddhism for 35 years.
---
Research Activities and Interests
While I was at the CFM, I participated in studies related to people with low incomes, hypertension, chronic pulmonary disease, and many other conditions.
---
Publications
My writing appears in a number of Buddhist magazines, as well as collections of essays, including The Hidden Lamp.  I'm also co-editor of The Book of Mu: Essential Teachings on Zen's Most Famous Koan.
---
Further info
You can read more about me at the Boundless Way Temple website: www.worcesterzen.org, and my personal website is www.melissablacker.com.